Business Communication Solutions

in Essex & London
Discover how our full suite of business communication solutions can benefit your business. View our comprehensive communication services and contact us for a quote.
A strong communication system is the backbone of any good business, and the technology has come a long way since the days of landline telephones and fax machines. With the need for convenience and quick responses ever-increasing — especially given the rise of remote and distributed working — companies need a cohesive communication system to connect with clients, customers and suppliers in multiple ways including phone, email, video conferencing and instant messenger.
With the line between technologies becoming blurred, many businesses are still burdening themselves with multiple suppliers and inflated standalone costs. We make it our mission to utilise the merging of technologies to provide business improvements, increase efficiencies and deliver a more streamlined end-user experience for our clients. Everything revolves around your business. We take time to understand your unique situation and your goals, and build your network and communications infrastructure based on your needs to provide the most effective solution possible.





Why choose Method as your Business
Communications Solutions provider?
There are many reasons to choose Method and our range of business communication solutions. Here are some of our clients' favourites:
A tailored and holistic approach
A tailored and holistic approach
Vendor agnostic and able to partner with all public providers
Vendor agnostic and able to partner with all public providers
Regular reviews to ensure you only pay for licenses you need
Regular reviews to ensure you only pay for licenses you need
Best-in-class data centres with 99.99% uptime
Best-in-class data centres with 99.99% uptime
Comprehensive migration support
Comprehensive migration support
Exceptional customer support
Exceptional customer support
Voice
Whether you need traditional phone lines or an Internet-based Voice over IP (VOIP) product, we will assess the needs of your business to implement a solution best suited to your requirements. We source from reputable suppliers to find the best value for money, and ensure your communication is reliable and effective.
Phone Systems
An effective phone system is imperative for business communications, including functions such as Direct Dialling, Conferencing, Menu Call Routing and Dialling. We can provide fully scalable hosted phone system solutions that eliminate the need for on-premises maintenance. Particularly beneficial for companies with a largely mobile workforce, this option utilises the Internet to make calls, meaning that costs are significantly reduced. Alternatively, we can implement on-premises systems which are suited to single-site companies.
Mobile
Mobiles have become an integral part of our day-to-day working lives, and with the need for individual landline and mobile telecoms becoming increasingly blurred, our platform is well-positioned to accommodate both. Much like you would work with a provider to bespoke a call plan for your home phone or personal mobile, through the management of our own sims, we will identify the needs of your workforce, utilising existing information such as current call volume, geographic locations and costs, to create a cost-effective package that's bespoke to your business.
Data
The importance of high-speed data lines in the workplace is more prevalent today than ever. For multi-site connections, file sharing and swift Internet speeds, we can deliver the lines you require. From basic broadband through to the most complex high speed fibre Internet circuits, we can configure our service to your advantage in order to provide the best possible return for your investment. Our UK-based help desks provide you with a single point of contact from the moment you order through to deployment and ongoing support.
Network Design
Having the right network in place is key to the overall efficiency of your IT service delivery. We will listen to your current, and future, requirements and then advise and recommend a solution to meet your needs. Whether you want to build on an existing network design or establish a new one, we specialise in providing fast and stable platforms that act as a springboard for your business.
Unified Communications
Video conferencing, audio conferencing, desktop/screen-sharing and instant messaging applications come in many different shapes and sizes. Every provider claims to be the best and while all deliver the functionality you require, few will be secure and cost-effective enough in the long run.
That's why we work with a huge number of unified communication providers so that we can identify the most appropriate and secure application for your business' specific requirements and deliver the most cost-effective solution possible. We also offer additional communication services for businesses, including full webinar hosting, if your needs exceed most providers' capabilities.
0
Reactive Tickets
Closed
0
Seconds Average
Answer Time
Download our eBook
10 questions to ask a potential IT support provider
Our eBook covers 10 questions to ask a potential IT support provider — as well as an answer from us at Method — to help you choose the IT support company that's right for you.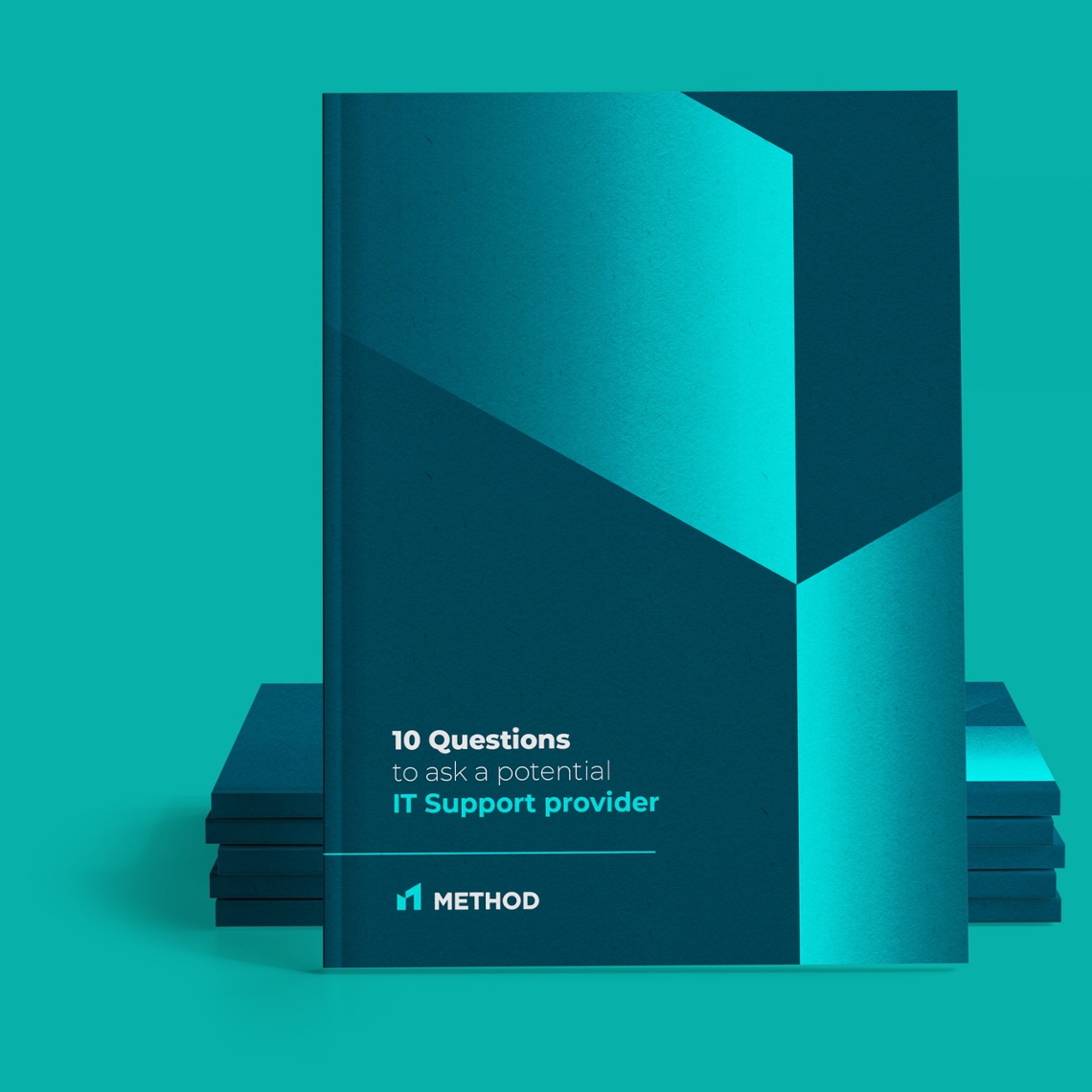 What makes your fixed line, mobile and data services different?
Our established grounding in the communications industry means we have been able to develop strong relationships with telephone, mobile and data suppliers and can provide businesses with more cost-effective communication packages that may not be available direct. No longer delivered by multiple suppliers, these options can now be offered under one management as the reliance on advanced technologies increase and the need for numerous mediums diminishes.
Should I use a single business communications provider or multiple providers?
While there are certain areas of IT where working with a specialist can pay off, business communications isn't one of them. Working with one IT provider will ensure your communication platforms are integrated and streamlined — and it will be significantly easier for you to manage to boot.
What's the difference between dedicated fibre links vs fibre broadband?
Fibre broadband is a shared connection used by multiple business and households. Fibre links, on the other hand, are dedicated connections that provide high-speed internet to your business and your business only. For most businesses, fibre broadband will be a satisfactory and cheaper solution.
Why is a cloud-based phone system better?
Cloud-based phone systems, also known as Voice over IP (VoIP) systems have become increasingly popular and for good reason. Cloud-based phones are routed through a hosted internet system rather than through traditional networks, making for a more efficient and cost-effective solution that can be integrated with many other business applications.
Back to top
Business Communication
Articles & Resources