Cloud Solutions

for Businesses in Essex, London & the South East
There are different ways to interact with the Cloud, such as Software as a Service, Backup and Business Continuity solutions. Whether you need to migrate between providers, purchase a SaaS solution or migrate an entire system to the cloud, we provide the tailored advice and support you need to succeed.




Why choose Method as your Cloud Solutions provider?
There are many reasons to choose Method as your cloud solutions provider. Here are some of our clients' favourites:


A tailored and holistic approach
A tailored and holistic approach
Vendor agnostic and able to partner with all public providers
Vendor agnostic and able to partner with all public providers
Regular reviews to ensure you only pay for licenses you need
Regular reviews to ensure you only pay for licenses you need
Best-in-class data centres with 99.99% uptime
Best-in-class data centres with 99.99% uptime
Comprehensive migration support
Comprehensive migration support
Exceptional customer support
Exceptional customer support
Private Cloud
A Private Cloud offers businesses all the benefits of 24/7 access to the resources they need, without the expense of committing to IT hardware.
We'll migrate your systems to a smaller and more agile provider compared to a Public Cloud solution, giving you a high degree of control over your product and the services you select, with the ability to pick up the phone and speak to someone as and when you need to.
Designed bespoke to your exacting needs, this solution is suited to companies that need a long-term solution.
Hybrid Cloud
If you're not ready to put everything in the cloud, we'll build a Hybrid Cloud solution that gives your business all the reassurance of a Private Cloud whilst retaining the flexibility of a Public Cloud.
With all your day-to-day IT requirements looked after privately, you also have the ability to procure Public Cloud services for a short period of time. The latter would apply for businesses that may have a very specific requirement that is suited to the Public Cloud, for example, high-intensity processing or a high-volume website where an increase in computer processing is required.
Other scenarios include the Public Cloud being an ideal staging position for complex migration and consolidation works. Our specialists can help you make the leap to a Hybrid Cloud solution.
Public Cloud
We can help your business migrate to Microsoft Azure, Google Workspace, Amazon AWS or another leading Public Cloud Provider.
A Public Cloud gives your company access to predefined IT cloud solutions such as ram, processors and storage. A notably scalable and reliable product, it's ideal for addressing a short-term business or resource need but isn't so suitable if you are looking for something to assist with the long-term running of your IT operations.
If you are facing an IT issue and think a Cloud Solution may help, we will help you assess whether Public Cloud is right for you.
Cloud Colocation
If you are looking to move your existing IT infrastructure off-site, perhaps to maintain your investment in existing in-house IT infrastructure, for regulatory requirements, or simply to consolidate hardware from two different locations, our Colocation service could be the answer.
With all the speed and reliability benefits of the Cloud, it allows you to take a stepping stone approach to the full Public or Private Cloud transition without an immediate commitment.
0
Reactive
Tickets Closed
5.3
Seconds Average
Answer Time
Download our eBook
10 questions to ask a potential IT support provider
Our eBook covers 10 questions to ask a potential IT support provider — as well as an answer from us at Method — to help you choose the IT support company that's right for you.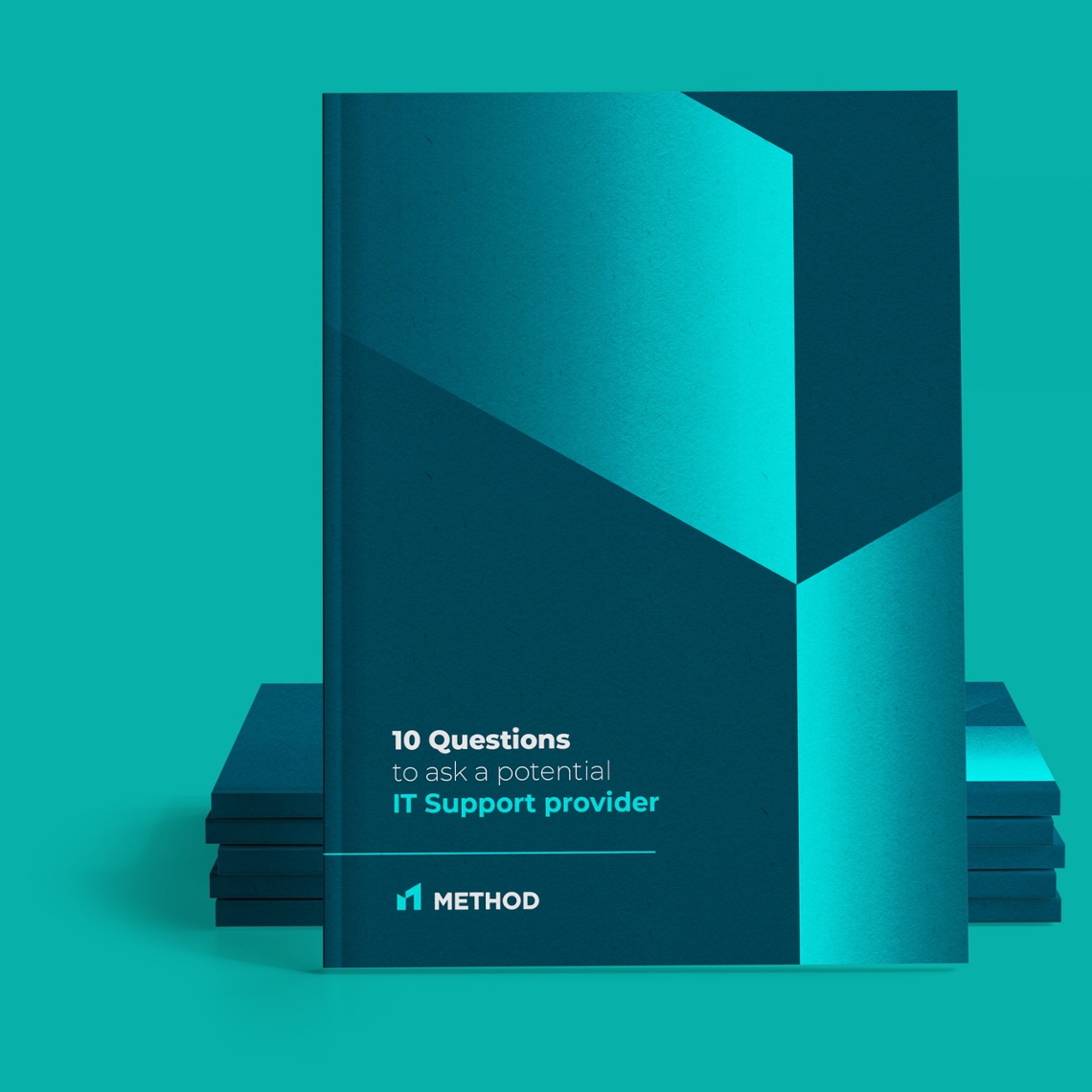 How can the Cloud help offices across multiple locations?
When you have teams of staff in the same company working across multiple sites, it's important they have access to one unified network. Cloud technology solutions make it so that each office doesn't have to work off its own respective system, and allows employees shared access to email servers, business software and other applications that keep your company moving.
Can the Cloud simplify my company merger?
If your business has recently merged with another, you may be wondering how you begin to align each company's files, servers and software. Our Cloud infrastructure solutions help you get everything in check so that employees have access to everything they need, with minimal disruption to your business. We can also provide a migration service to seamlessly move one company's infrastructure to the other's cloud provider.
Is the Cloud a necessity for a remote workforce?
Yes, a cloud-based infrastructure can be invaluable to businesses with a distributed workforce. Whether it's having access to emails, being able to download documents from a company server or collaborative working and conferencing, a private Cloud server is integral for flexible workforces.
Where are your data centres?
All of our partner data centres are UK-based and offer best-in-class support, security and disaster recovery capabilities. As a result, we're able to comply with all security and regulatory standards, promise 99.99% uptime and back everything up with a strict SLA.
Back to top