Network Infrastructure Services

in Essex & London
From wireless networking to reliable network cabling installation, learn more about how our infrastructure solutions can strengthen your business operations below or contact us.
Your infrastructure is the beating heart of your network and your company. Without the correct hardware/software, cabling, network equipment and sufficient power, your systems might not perform as well as you would expect. Our technicians make informed decisions based on your business goals, employee size and growth plans, helping to improve your business operations through infrastructure design, implementation and updates.
Find out just some of the ways we can improve your infrastructure, or contact one of our team for a no-obligation chat about our IT infrastructure service.
Why choose Method as your Network Infrastructure provider?
There are many reasons to choose Method and our range of Network Infrastructure solutions. Here are some of our clients' favourites:
A tailored and holistic approach
A tailored and holistic approach
Vendor agnostic and able to partner with all public providers
Vendor agnostic and able to partner with all public providers
Regular reviews to ensure you only pay for licenses you need
Regular reviews to ensure you only pay for licenses you need
Best-in-class data centres with 99.99% uptime
Best-in-class data centres with 99.99% uptime
Comprehensive migration support
Comprehensive migration support
Exceptional customer support
Exceptional customer support
Hardware
Hardware is the backbone for your business, and we have extensive experience in working with a multitude of leading trusted providers. The strong relationships we have built means that we are able to find the optimal solution to your hardware needs. Whether you would like to procure on a per item per month basis, or prefer to buy outright, our bulk buying power means we can pass the savings on to you.
Software
Software for your company is vital to your operations. With our solid vendor relationships and accreditations, we are able to advise on the best procurement and deployment method for the services you require. Our solutions range from outright purchase, through to software rental and subscriptions. We also have extensive experience in Software Asset Management, ensuring that you are adhering to Vendor licence terms, as well as operating with maximum efficiency.
Data Cabling
Your data cabling is the glue that holds your business together. Inefficient design and components can mean that even the highest performing IT Hardware and Software will not perform correctly. Whether you are looking at a fresh installation, or an extension to an existing data cabling solution, our Network Team will work with you to understand requirements and recommend an optimum configuration. Our solution portfolio ranges from standard CAT5e/6, through to fibre cabling and inter office radio & links.
End-to-end Solution
If your business needs an infrastructure overhaul, a discussion on starting from scratch or a one-off solution, we can consult and implement a range of effective solutions that are designed to keep your business running with ease.
Wireless
A wireless network provides you with maximum flexibility within your office. It enables users to connect from anywhere within the office environment, from any wireless enabled device. However, increased functionality does not come without risk. That is why it is important to ensure that a wireless network is designed not only to ensure that it is flexible to the business, both for internal users and guests, but more importantly to protect your core business assets.
We will consult with you on your wireless networking requirements and then devise a solution to fulfil everything you need to achieve on a daily basis. We will put forward recommendations that will increase your company's flexibility and allow your operations to run most effectively.


0
Reactive Tickets
Closed
0
Seconds Average
Answer Time
Download our eBook
10 questions to ask a potential IT support provider
Our eBook covers 10 questions to ask a potential IT support provider — as well as an answer from us at Method — to help you choose the IT support company that's right for you.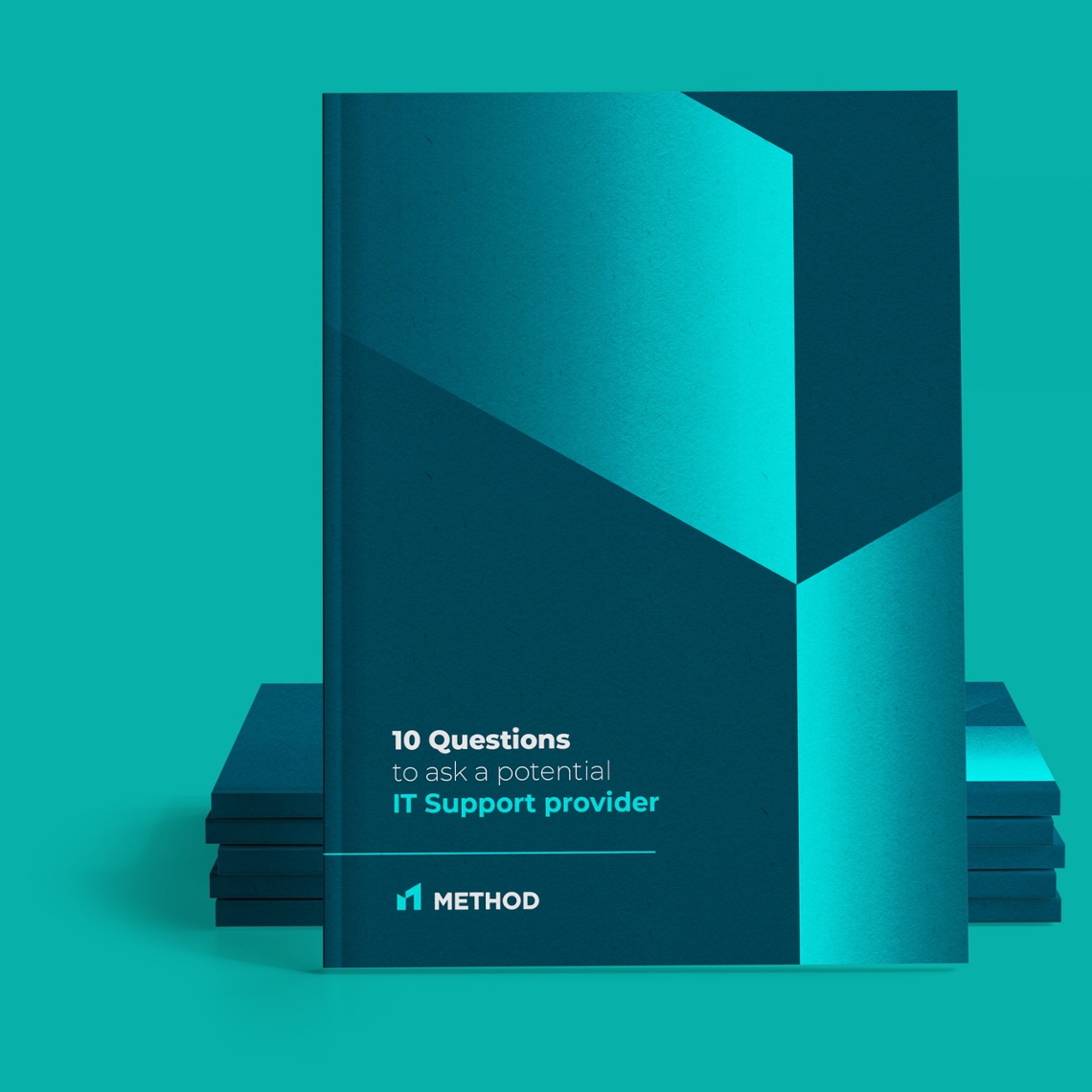 Does infrastructure affect the future proofing of my business?
If you have plans for growth now or in the future, it's important to consider how your current IT infrastructure might cope with these changes. Through our complete analysis, design and implementation, we prepare your business for flexibility, scalability and expansion.
Can you help my office get its wireless networking in order?
Whether you require an upgrade to your current wireless networking system or are looking to transform your IT infrastructure by going wireless, our experts will assess your infrastructure to find the solution that works best for your business.
Back to top
Network Infrastructure
Articles & Resources