Office IT Consultancy

in Essex & London
Our IT consultancy service works alongside your business to make sure you get the most out of your IT strategy. View our comprehensive IT consultancy solutions and contact us for a free quote today.
There's always room to improve your IT setup and strategy, but finding the time to take a step back and assess these critical aspects of your business can be difficult. And even if you do have the time, does your company have the support and expertise it needs to make such improvements? With an IT consultant working alongside your business, you'll receive an expert assessment of your current IT strategy.
We will help you identify inefficiencies, recommend solutions and offer invaluable ongoing advice on what you can do to maximise your business IT efficiencies in line with growth expectations. Whether your in-house IT department requires support or you require a virtual CIO and a fully managed IT strategy, our IT consulting service can be tailored to your needs.
Why choose Method as
your IT Consultant?
There are many reasons to choose Method as your managed service provider. Here are some of our clients' favourites:
Exceptional Customer Service
Exceptional Customer Service
Tailored and Scalable IT Support
Tailored and Scalable IT Support
Certified and Accredited
Certified and Accredited
A Proactive Approach
A Proactive Approach
Professional Service Specialists
Professional Service Specialists
Support In-House IT Departments
Support In-House IT Departments
Virtual IT Director and Virtual CIO
Most SMEs don't need the expense and hassle of hiring a full-time IT director. A Virtual IT Director is a comparable and cost-effective alternative. We'll work in partnership with your business, providing strategic guidance and technical delivery to ensure your ever-changing IT needs are met, and business objectives are achieved.
IT Systems Consulting
If you don't require a Virtual IT Director's in-depth and ongoing support, our IT consultancy services can be tailored to your business needs. We'll draw on our wealth of experience to identify and implement technology to help meet business goals, review and enhance your existing systems, advise on and facilitate new purchases, and assist with discrete tasks.
Project Management
Embarking on any IT project outside of your core business is inevitably daunting and risks becoming time-consuming and costly. We'll apply our decades of experience and significant resources to your project, managing every aspect of it, including third parties, to ensure successful delivery on time and on budget.
Regulatory and Strategic Tasks
We can also consult on a host of other regulatory and strategic tasks, including regulatory assessments, office moves, cybersecurity analysis and infrastructure audits. We can act as an impartial third party as well as a trusted partner to give you the support and guidance you need to achieve key business objectives.
0
Reactive Tickets
Closed
0
Seconds Average
Answer Time
Download our eBook
10 questions to ask a potential IT support provider
Our eBook covers 10 questions to ask a potential IT support provider — as well as an answer from us at Method — to help you choose the IT support company that's right for you.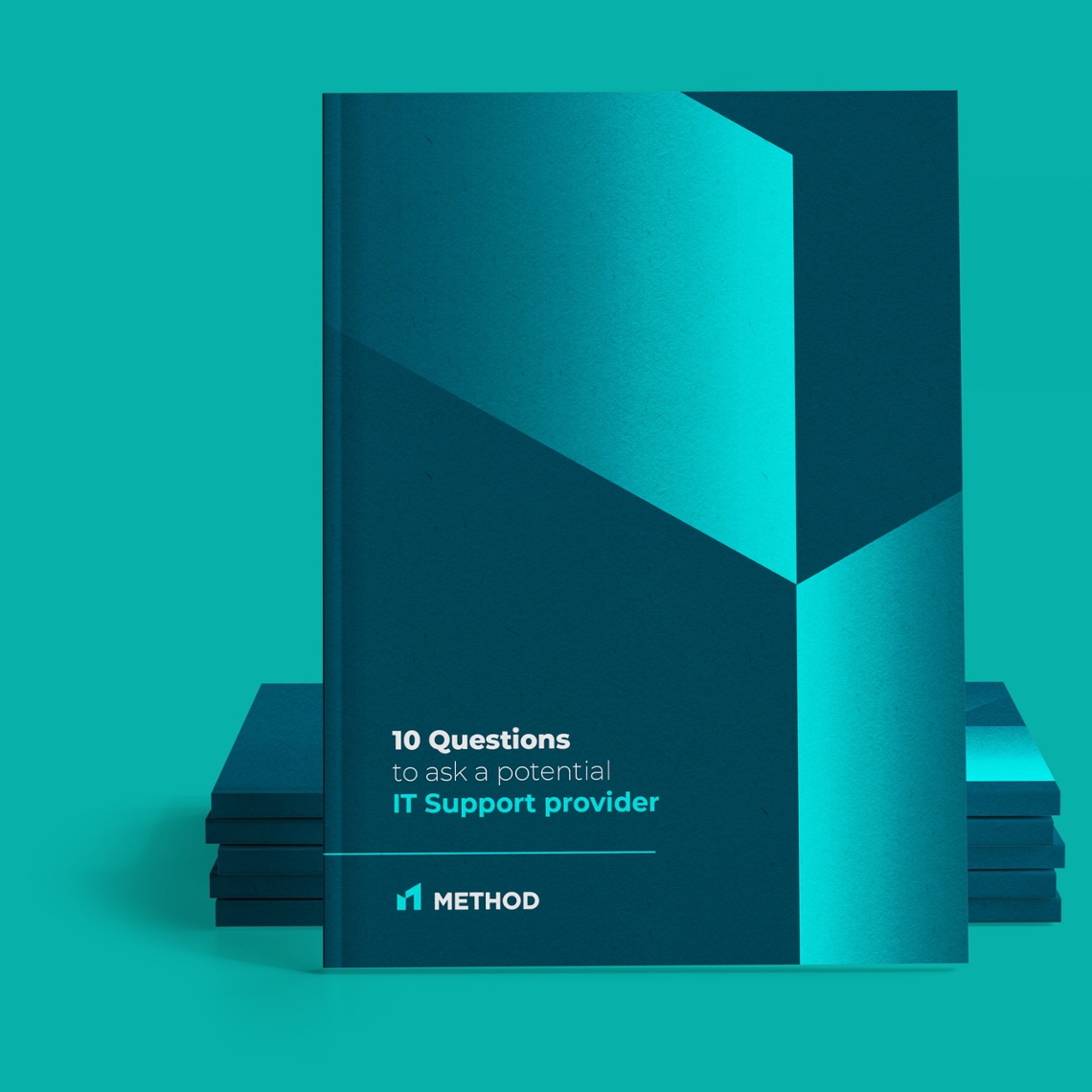 Could an IT director improve my business?
Whether you're a start-up or a larger corporation, our Virtual IT Director service offers strategic advice and guidance whenever you require it. Having developed a deep understanding of your business function, your IT Director will actively conduct research and provide you with ways to improve your IT strategy and maximise your growth opportunities.
How do you ensure the successful delivery of large IT projects?
To ensure your IT project is completed successfully, our IT consultancy service offers project management across all of our services – keeping you informed at every stage. From the strategic planning phase to the final delivery, our consultants get right to the heart of your business so that we can understand your business needs and ensure that your project delivers the greatest return.
My existing IT strategy isn't working, how can you help me?
To maximise the efficiency of your IT systems and, ultimately, your business communications systems, our expert IT consultants undertake a detailed audit of your existing IT infrastructure to assess your systems and identify any risks or inefficiencies. A detailed report is then drawn up following their findings and recommendations are made in line with industry best practice – helping you to get the most out of your IT system.
My business is undergoing an office move, what's next?
From setting up a brand-new start-up company to going through a merger or experiencing sudden growth, there are many instances where your business may require relocation, and with it, relocation of your IT infrastructure. From assessing your IT needs to managing your IT operations, our IT relocation service looks after every aspect of your IT needs during the move, ensuring a smooth transfer and minimum disruption during your office move.
Back to top
Network Infrastructure
Articles & Resources